The Most Successful Kickstarter Campaigns Ever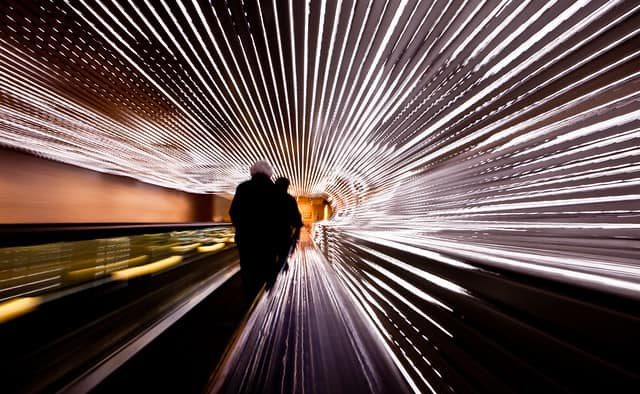 Following Kickstarter's 10-year anniversary, we take a look at four successful – and not so successful – ideas to gain investment from the general public.
In the wake of the Great Recession at the end of the noughties, people who wanted to start their own small company or create a new product needed a way to fund their ideas. The April 2009 launch of Kickstarter revolutionised financing for budding ventures in any sector, cutting out the middleman of financiers and going straight to the most important people to any company – the customers.
Kickstarter didn't invent crowdfunding, or even coin the term, but it did take the concept of crowdfunding into the mainstream. Since then, countless entrepreneurs, artists and inventors have taken to it to make their ideas a reality, with people pre-ordering products by way of financing, as well as receiving other rewards depending on how much money they pledge.
Still, just like in any online casino, it can be a gamble for businesses to rely on crowdfunding alone, with just over 36% of projects meeting their target amount. One commentator noted in The Long And Short that "investing in crowdfunding resembles putting money into a racehorse syndicate." Even with projects which exceed their targets, there's no guarantee that the finished product will be delivered to backers. This hasn't stopped people from pledging $4.2 billion (and counting) into Kickstarter projects over the last decade.
Since each campaign measures success differently, we're going to single out four who came top of the class in one way or another.
Biggest Success Story: Oculus Rift 
Arguably the most lucrative product funded through Kickstarter, Oculus Rift was a monumental virtual reality (VR) advancement that changed the world of tech forever. With the potential to transport users to a hyperrealistic 3D world, the headset beat many of the tech giants into creating VR technology of such high quality.
Despite huge corporate interest, Oculus still needed significant financial support to properly develop the technology. So, by leveraging popular VR forum MTBS3D and exhibiting the headset at gaming conventions, company founder Palmer Luckey caught the attention of big names in the industry.
The media soon began promoting the pioneering headset, and within four hours of launching a Kickstarter campaign on August 1st 2012, Luckey reached his $250,000 target. By the end of the month-long financing project, Oculus Rift had received more than $2.4m in total, almost 1000% of its target.
While not the most financed crowdfunding project ever, Facebook's $2bn investment just two years later means it is likely the most lucrative.
This funding helped the first generation Oculus Rift become commercially available in 2016. The Oculus Rift's eventual release ultimately justified both Luckey's decision to use Kickstarter and the faith of those who invested.
Most Funded Campaign: Pebble Time
Pebble smashed expectations when it raised a whopping $10,266,845 in 2012, beating the smartwatch's initial target of $100,000 by 10,167%. However, when the brand's second campaign launched in 2015, supporting the second-generation watch Pebble Time, this broke records yet again, achieving its funding goal of $500,000 in just 17 minutes. It went on to receive $1 million in a mere 49 minutes and remains the most funded campaign in Kickstarter's history.
Pebble had consistently shunned high-resolution screens and graphics in favour of simple watches with e-ink screens—the electronic paper display technology most commonly used in e-readers—resulting in a longer-lasting battery than competitors. But this wasn't enough to continue attracting customers who preferred smartwatches like Android Wear and the Apple Watch.
After turning down $740 million from watchmaker Citizen in 2015, then $70 million by Intel in 2016, Pebble was acquired by Fitbit for just $23 million in December 2016. The technology was incorporated into Fitbit, but the majority of Pebble employees were laid off including the chief executive, Eric Migicovsky. Pebble watches were phased out and eventually discontinued in 2018.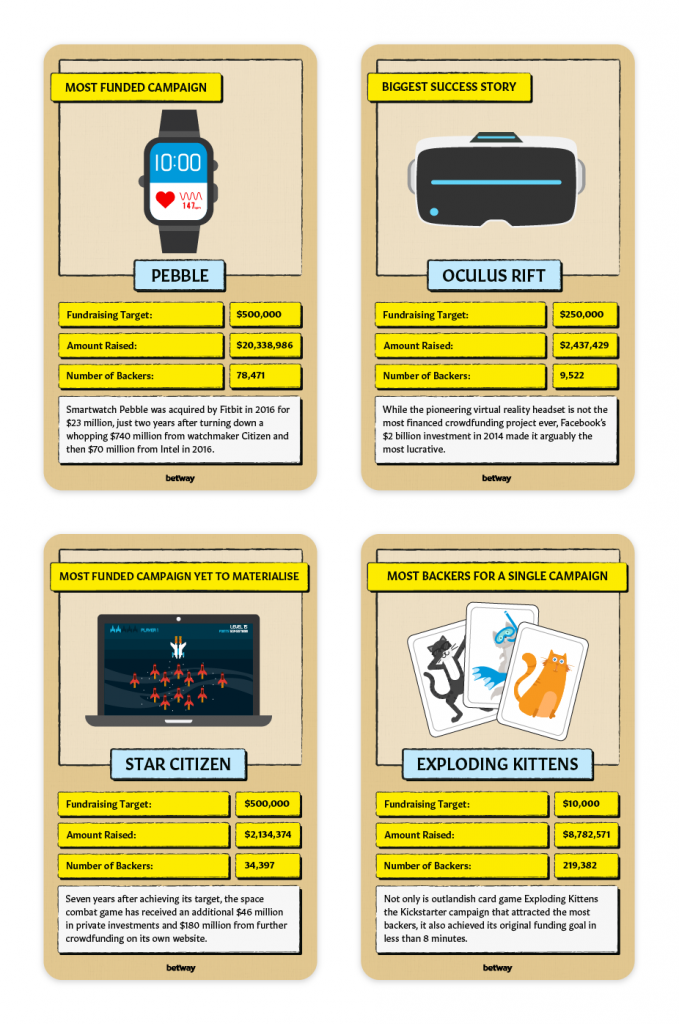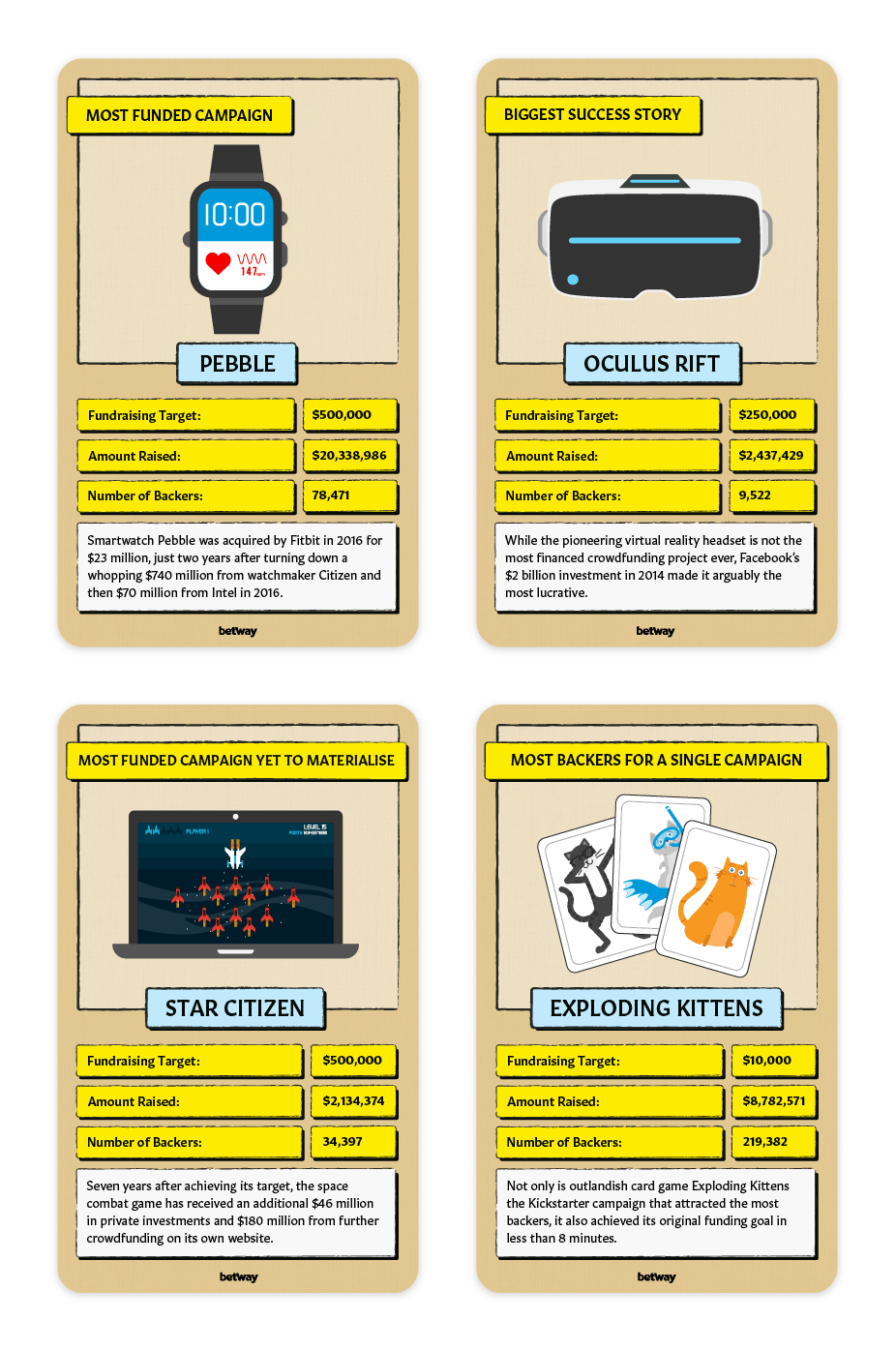 Most Funded Campaign Yet To Materialise: Star Citizen
If you're one of the 2.3 million people who pledged money to finance Star Citizen, Cloud Imperium Games' "epic space adventure", you might be getting more than a little impatient.
After its initial Kickstarter page launched in 2012, the game attracted $2.1 million in funding from over 34,000 backers—more than four times its original half-million dollar goal. Seven years on, an additional $46 million has been privately invested while nearly $180 million was raised from another crowdfunding scheme on the game's own website. However, the finished game is nowhere to be found. Its deadline has been postponed several times since 2014 and the money is currently expanding the game's scope, which includes developing fictional in-game languages.
Although there have been small parts of the game released to backers, as well as promises to reward them within the game for their contributions (and their patience), the delays have riled many people. Cloud Imperium has since tightened its crowdfunding refund policy to make it harder for disappointed backers to reclaim their money. Star Citizen's failure to materialise has even led to it winning an award, namely Wired Magazine's Vaporware accolade for having nothing to show for all the hype.
Most Backers For A Single Campaign: Exploding Kittens
Following Cards Against Humanity's $15.6k success in 2011, another outlandish card game went on to attract the most backers in Kickstarter's history. Exploding Kittens, a "highly strategic kitty-powered version of Russian Roulette", launched in 2015 with a funding goal of $10,000. It achieved this in just one day, and to say it exceeded expectations is a major understatement. The game went on to raise nearly $8.8 million, thanks to the massive support of over 219,000 backers.
As well as being a fun and straightforward concept, Exploding Kittens' huge appeal stemmed from the clever way its creators treated the crowdfunding process. Rather than simply asking for money, all efforts went into engaging with the community, effectively turning Kickstarter into a game itself.
Backers were invited to complete amusing tasks, such as posting a photo of ten people wearing cat ears, in exchange for additional rewards, like a limited-edition box which "meowed" when opened. The creators also encouraged backers to share their ideas for improving Exploding Kittens.
This innovative strategy has provided a vital lesson for other hopeful crowdfunding campaigns. As co-creator Elan Lee put it to Vox: "The funding will happen. What you've got to do is build the crowd."
This is an adaptation on a blog originally posted by Betway