How To Define Your Target Audience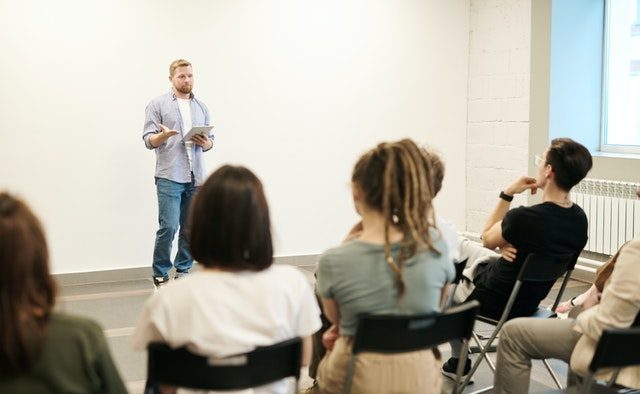 Your target audience is the key to your sales and marketing strategy. You know you need one, but perhaps you're not sure where to get started. Let us walk you through the simple steps to take to define your target audience!
What is a target audience?
Getting to grips with your target audience archetype allows you to prioritise your marketing channels, refine your sales messaging and plan your communications with your 'ideal customer' in mind.
Identifying and becoming familiar with the wants, needs and buying motives of your target audience can also help you unlock further market opportunities and business growth as a result. Don't forget to consider that your target audience can shift or change over time, so make sure to check in as your product or service evolves.
Unless your business has universal applications, it's likely that a certain 'type' of person will be more likely to buy your product or to find it useful. To start with, this may include key demographics such as location, job title, education level and income bracket, but can go as far as to include behaviours, interests and affinity categories.
Using a simple example of a target audience in practice, if you sold wedding dresses from a physical shop, you would build a target audience of mainly women of a certain age bracket in a certain radius from your shop – this would give you a broad idea of their socio-economic status and wedding budget based on the value of the dresses you sell.
With this knowledge, you can craft your marketing and sales messaging to that particular audience, and start considering which social media platforms your future customers use regularly. Do they use Instagram? Would they Google 'wedding dresses', or search online for a local bridal store? All this information can be ascertained and gathered from your target audience outline and can help you to better plan your marketing and sales strategy with them in mind.
Researching your target audience
When researching your target audience, it's important to think about your target market, too. Your target market is a specific group of consumers that your product is aimed at. So, your target market might be 'CFO decision-makers', and to define this group, your target audience might then be made up of 'CFOs, mostly men, aged 40-55, in central London'. It's important when creating your target audience that it isn't too broad, but not too niche, either.
For businesses with as little as a few months' experience, you can start to research your audience by looking at your demographic reports on Google Analytics to gain a better understanding of your current audience. The demographic and interest reports will give you an idea of not only those who have purchased but of the visitors to your website, too.
The data available includes things like location, age bracket, gender and other interests to help you discover any affinity categories – for example, you might find that 20% of people who are interested in your product are also interested in arts and entertainment.
There is similar reporting available on most social media platforms, too. If you have a Facebook Business Page or Twitter Ads Account, these both come with a breakdown of your followers by gender and age as a minimum. For those with LinkedIn Business Pages, you'll benefit from a breakdown of both followers and business page visitors by location, industry size, seniority, company size and job function – particularly useful for B2B businesses.
Another good route for gauging your target audience is looking at competitor activity. Who are they addressing with their marketing and content? Who engages and interacts with their social media posts? Who do they share content from? These insights don't have to correlate exactly with your ideal buyers, but it's important to consider competitor activity and use this data to inform your own audience one way or the other.
Exploring buyer personas
Buyer personas and target audiences go hand in hand, but buyer personas take your target market a step further by creating a fictional character to consider. This made-up person reflects what your ideal customer looks like, and is enhanced further by taking into consideration likes and dislikes, challenges, ambitions, interests and more. This is particularly applicable to your sales and marketing content, where you'll want to address your audience's current problems and demonstrate how your product or service can help.
A B2B buyer persona usually includes:
Demographics: name, age and geographic location
Platforms and content: tone of voice, content styles and favourite channels
Business information: company size, industry/sector and turnover
Personal business information: job title, decision-making capacity and level of influence
Challenges: current challenges at work
For example:
Rebecca Taylor, 34, Oxford, UK
Engages with Pinterest, LinkedIn, Instagram and emails. Enjoys video and image content. Doesn't often answer phone calls, as she's regularly out the office or in management meetings
Works for a company in FCMG with 250 staff and approx. £12m annual turnover
Operations Lead. Personal decision-making capacity for an individual spend of up to £25,000
Struggles to drive efficiency and keep track of rising manufacturing and staff costs. Targeted on manufacturing and efficiency KPIs. Struggles with work/life balance due to frequent deadlines and high-stress workload.
Once your buyer persona is ready, you can create your marketing strategy and develop your communications with 'Rebecca' in mind, helping you to focus on her current wants and needs, rather than generic sales copy. This also helps you to refine your general product messaging: what does Rebecca need to know about your product to make a decision?
Overall, by making a concerted effort to consider the demographics, interests, wants and needs of your buyers, you can build an effective target audience and buyer persona to help inform your future marketing, sales and communications decisions, as well as to define and refine your future product strategy and uncover market opportunities.